Commercial Roofing in MAUI
Commercial Roofing in Maui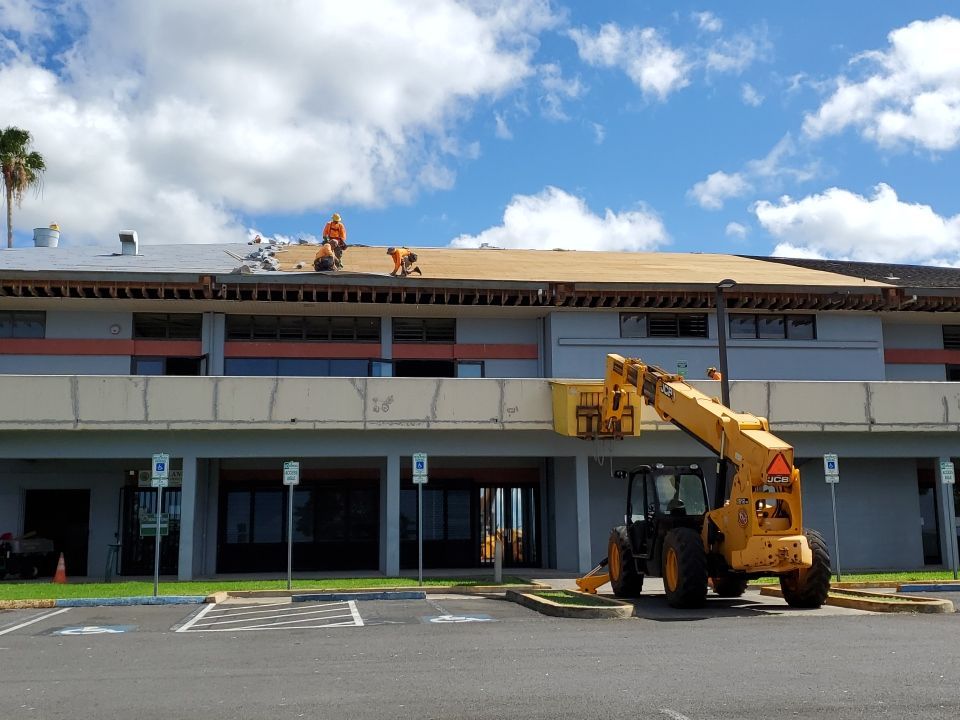 Business owners and property managers on Maui know that it can sometimes be challenging to find a roofing company with the proper qualifications, capabilities, and impeccably high standards that a commercial project demands. 
Over the years we have refined our process, crews, and customer service to earn the reputation of a top commercial roofing contractor on Maui. Our portfolio includes churches, condominiums, and buildings both large and small. 
Since 2001, Maui Roofs & Repairs, one of the leading roofing contractors in all of Hawaii, has been providing expert roofing services to the residents of Maui. Offering free inspections, free estimates, and more, the expert contractors at Maui Roofs & Repairs are experienced in the repair and replacement of many different types of roofs including flat roofs, low sloped roofs, standing seam metal roofs, membrane roofs, GACO roofs and more.
In terms of commercial buildings and properties, our flat roof and low sloped services are extremely popular. On flat roofs and low sloped roofs, we provide 100% silicone coatings, which are flexible, seamless, reflect sunlight and solar energy, and are 100% waterproof. With our flat roof and low sloped roofs, we also have long warranties as well. Along with the wonderful reputation for being the top commercial roofing contractor in all of Maui, here at Maui Roofs & Repairs, we proudly have budget-friendly prices, unbeatable warranties, and a 100% satisfaction guarantee for every job that we do.
Utilizing eco-friendly roofing options, as well as providing comprehensive insurance claim processing services, we are a licensed, insured, and bonded roofing company. Trustworthy and honest, we base our company model on providing authentic service in all aspects of the commercial arena. Our qualified commercial contractors will walk you through the entire process, step by step, from start to finish, explaining to you every detail along the way, including what needs to be done, how long it will take, and how much it will cost. The reality is that when it comes to hiring a qualified and experienced commercial roofing contractor in the Maui area, this transparency and high level of customer service can be hard to find.
When dealing with commercial roofing services, you have to ask yourself a few questions. What damage can I see? What is the history of my roof? Are there any leaks or stains on my roof? What do I want to accomplish when the process is over? And finally, what is my budget? Once you answer these questions, you can better determine exactly what you need done, and how long it will take.  Depending on your specific needs and desires, you might need only a small roof repair or, you might need a full roof replacement. Thanks to the free inspections and free estimates that we provide here at Maui Roofs & Repairs, you will be able to get these questions answered quickly by one of our qualified representatives once they come and take a look at your existing roof.
There are several reasons why people choose to hire a qualified roofing contractor for their commercial roofing needs. They might have experienced a natural disaster which needs the attention of an experienced contractor, they might have noticed damage to their roof due to the age of the roof, or to safeguard for the future. Especially when it comes to commercial services, it's important to plan ahead, and take care of any existing issues before they become bigger problems. Safety is key, and it's vital that your commercial roof is in good working order at all times, with no stains, leaks, cracks, or breaks.
For more information on all of the comprehensive services we provide here at Maui Roofs & Repairs, or to inquire about a free estimate or inspection on your existing commercial roof, feel free to contact us today! We look forward to speaking with you soon.  
GET A GUARANTEED CALL BACK      FROM THE OWNER
Call For A Fast & Free Estimate